Zugaikotsu Clan [Skull Clan] :
This group is made up of four people, we found each other because of our shared brilliance and my limitless money. I,Aijin, the leader; assembled this group because I wanted to do more then just be rich and follow in my father's footsteps. So I created Zagaikotsu, meaning skulls and that means we are going to break it. We are best known for our traditional japanese clothing which we wear on a daily basis and our host club, YHC located in District 2. Where we serve customers as a front to our actual business which consists of being hired help  and fixed bettings and loans. My team is Rin; she plays maid but is really a little spitfire, a thief by trade. Her slight of hand goes above and beyond those of the top magician. Kuro, our little shy boy that the girls go mental for, he can collect information from anyone, his techniques are not to be discussed outside the group. He knows everything about everything, we are lucky he's on our team and last but not least, Wilbert, the Whenever/Wherever butler. This fucker turns up out of nowhere and vanishes just the same, he is our hitman and can be hired by others for the right price. As gokudo, we of course take care of our own before anyone else, so you better watch yourselves. Harm one of us and wake up with a knife in your partner's eye socket. Just a warning.
Clan Perks
Close-nit family like group
Awesomeness
A job in the ever growing YHC LTD
Rin [And an endless supply of sake]
Ark1: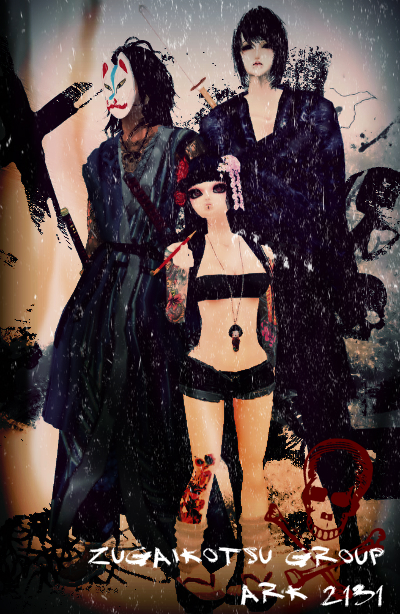 At the moment, the Zugaikotsu are not that well known. They don't plan to be at this time because "our patience will achieve more than our force". They're also figuring out which clan's skills would mesh well with their's to create a deadly allia
nce, so far they have decided to go with Tasanagi. They figured the underdog always comes out on top and since the fight between him and Aijin, he's proven himself to be a worthy partner. Growing steadily and silently is what they think is best. They may not be the most advanced technology wise but they are quietly planning their own entrance that will shock the Yakuza world.
Establishments:
YHC Loans, a common lend and kick-ass-if-not-paid-back-within-the-given-time operation. They ten of these dotted around the city.
YHC Betting stores, Hook, line and sinker biatch. They own twenty of these most of which are located in the poorer areas of District 2. 
Seven YHC Host Clubs, which their service is probably what they're most famous for.