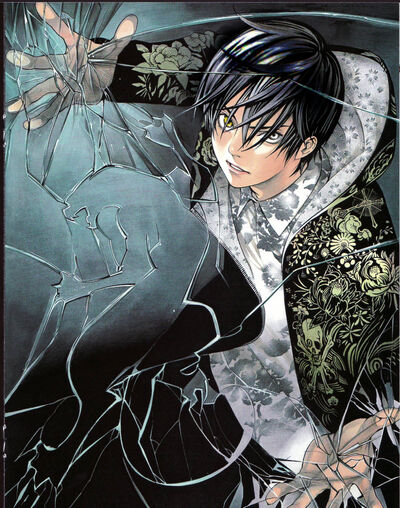 "Don't worry. Just put your faith in me, and I'll make everything okay." 
First NameEdit
Sora
Last NameEdit
Akasawa-Tasanagi
IMVU NameEdit
Diversity
NicknamesEdit
-N/A
Oct.1st, 15 y.o.
Male
6'0
190 lbs.
Blood typeEdit
O-
Behaviour/PersonalityEdit
Sora is the goodhearted and more lawfully just of the Tasanagi children. He is very lighthearted with a gentle sense of sarcasm but overall a sense of thorough, pure goodness. He's very defensive about certain topics and protective over those he loves. Sora is rather smart, which bodes well for him. But now that he's in public school after being otherwise homeschooled, his intellect is losing its chance to shine because of his sudden growth in ego due to girls. He's a bit cloudy-minded over beautiful women but his mother ever reminds him to be wary of everyone. Even through her wisdom however, Sora tries to see the best in people and give them the benefit of the doubt, unknowing of how it may later hurt him. 
ApperanceEdit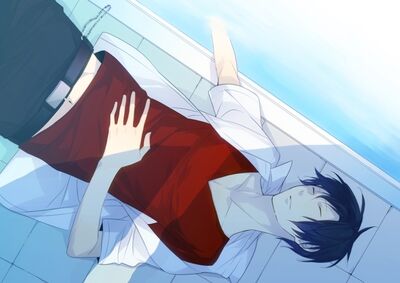 Sora is not what you'd expect for his age or his childhood experiences. He's never been to school though until now so his appearance to most is just what it is and nothing more. Sora is tall and broad-shouldered like his father, with a firm and dynamic musculature. He has dark raven hair kept in a short unbrushed mess and his skin is barely lighter than his father Keyth's hue (imagine a light caramel tone). The brawny teenager has a bright, lively smile and what seems to be one golden eye while the other silver orb is hidden by a black eyepatch. He has very few scars, those being very linear and small surgical scars. 
Allignment

Edit
Lawful Good
Clan & RankEdit
None at the moment. 
High school gradeEdit
Freshman
What district do you live in?Edit
2
RelationshipEdit
Single
OccupationEdit
Right now Sora works here and there in a junkyard moving material for buyers, junkers, and salvagers. 
Fighting StyleEdit
Base Style: A.T. Shi Ken / "Art of Death Fists" 
Flow of battle: Dou
The way Sora is being trained to fight is an odd mixture. He naturally takes after his father's brutal, emotional unleashing. But without Keyth to show him how to fight, he has pleaded to his mother to teach him. And what Michiko knows is the human anatomy, bestowing to her son a knowledge of how to cripple an opponent quickly when paired with his ever growing strength. Sora has taken some karate classes at a local dojo but very quickly he is learning to develop his own style, based on the stories of Keyth Tasanagi and his mother's critically intellectual teachings. 
Chi Base

 (Optional)

Edit
Fortification
Sentinel ExactionEdit
Sentinel Exaction is a unique kind of Fortification based chi that Sora has learned to master not from practice, but from heart. It is born of his desire to protect and defend, and to fight valiantly. Sora's chi comes to him in its most raw form as a series of silver threads that can braid or interlock to create an armoring of some kind. Because his chi is thread-like rather than plated when it armors itself, even if fit to his skin the Sentinel Exaction can move with the full range of motion of Sora. But it can be put upon other things nearby him too, and even more useful is that he can craft the Sentinel Exaction into objects if need be. However instead of making items with this chi, Sora prefers to adorn already existent objects with his chi to make them almost invulnerable to damage. His chi can be used to sharpen an already sharp object, put an edge upon a dull one, or reinforce something else. The other unique trait he's developed for his chi use is the ability to expel any armored piece of fixated Sentinel chi. IE: Sora has greated a gauntlet around his wrist and hand of his chi, he can hold out his fist, or throw his fist, and send the armored gauntlet from his hand like a projectile punch.
The qualities of the Sentinel Exaction chi is very much metallic in appearance. However this chi is not easily affected by extreme temperatures, can withstand a great deal of pressure and blunt impact, and is highly resistant to cutting. A blade is perhaps the least effective weapon of choice against the Sentinel Exaction chi. When Sora uses his chi as a fuller or broader length of armor closer to his body, the sinews of the fortification chi can disperse impact to allow a broader but less harmful wound, and lessening the chances of a critical hit being successful against him.
Even in the use of Godshield (yet to be discovered), Sora's chi has a slight smokey violet hue around it, almost like a glow but not quite. 
GodShieldEdit
A technique not yet developed or even thought of ICly (Ark 17). The GodShield is an accomplishment to come whereas Sora will learn how to use his Sentinel Exaction to create fibers and armoring that is resistant to other chi and capable of blocking chi attacks. The Godshield will appear as golden sinews instead of silver. 
Chi
Weapon of ChoiceEdit
At the moment he is all hand-to-hand. 
Oni BustersEdit
Oni Busters is a set of full arm gauntlets that he can create over a black fabric sleeve and glove. Sora utilizes these very well for their many grooves and spikes which can hurt bare-handed attackers and also distribute forceful blows rather than absorb the full force of the attack. At the outer wrist is the 'face' or a tradiational Oni. Here the jaw and teeth create an intricate pattern that if a blade is caught horizontally in the grooves and hook-like display of the oni face, and Sora then snaps his wrist up, the armor has a chance to snap the weapon. In doing so, this looks as if the Oni's teeth are "chomping" whatever's caught at this part of the gauntlet, as it snaps the weapon in play. Lastly Oni Buster allows full use of the hand to grip other weapons, but if a fist is made several jagged points jut out over the knuckles so that any punch issued creates a lacerating wound that looks almost like the top half of a demon's bite mark.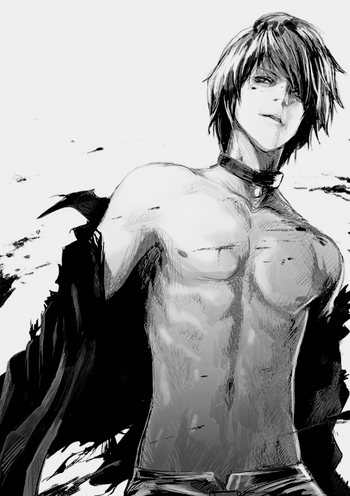 Akasawa-Tasanagi PhysiologyEdit
Sora being the son of Keyth Tasanagi has the sense of blind rage. When he starts to fight, he can lose track of his own injuries and pain. This allows Sora to fight through pain and injuries that normally would stop others. Because of his mother (and Keyth too since Keyth had the nanorganic blood), Sora has a nanorganic mutation that makes his blood unique, almost as if Sora is a new subspecies or mutation of human. Sora can access 100% of his muscles, and even can affect his involuntary muscles (GI tract, heart, lungs, brain, etc). He's still learning how much control over his own body he has, but it comes in extreme handy when in combat. He also has a higher healing rate than normal humans, though it is not considered a peak trait. Instead, linking up with his unreal bodily self-control, his healing mostly comes from the fact that his wounds are kept from becoming critical faster than most (so his clotting factor can change upon need, and later with development he will have some sense of nervous system control like Michiko does). 
The Vanguard EyeEdit
The Vanguard Eye is the technical name for his unusual silver left eye. When Sora reveals his left eye, he experiences heightened reaction timing. So far he doesn't understand it quite well, but the Vanguard Eye can interpret motion faster than his golden right eye. He also has what he would consider superior vision in that eye. 
Allies/EnemiesEdit
Family: Michiko Akasawa, Kin Tasanagi, Keyth Tasanagi
Friends: Daisuke Yun
Girlfriend:
Business:
BackgroundEdit
Roleplay SelectionEdit
~Where you add the Role-play logs you have particapated in~
APPROVED BYEdit
~Two approvals will be needed IE: Chairmen Tasanagi, Chairwomen Nakayama, or Detective Roji (Keyo/Izzy/SezomaruDensuke)~
Community content is available under
CC-BY-SA
unless otherwise noted.