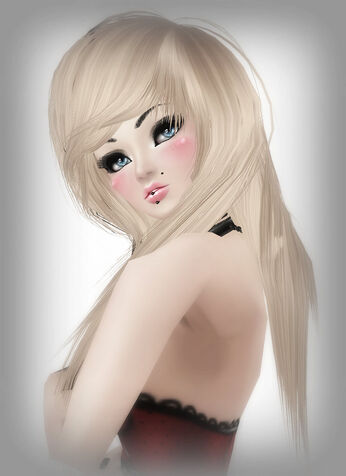 First Name
Alice
Last Name
Wellington
IMVU Name
DollieBelle
Nicknames
Snow
Age
Snow is currently Twenty years old
May 21st 2115
Gender
Female
Height
Five foot Five
Weight
One-Hundred and Thirty Pounds.
Blood type
AB Positive
Behaviour/Personality
( Bare min of 100 words, would like love to see 200+ on how your character acts. The more detail provided. The better the RP will be! )
Clan & Rank
(What Clan is your character in, and what rank do they hold within the clan? Chairmen? Aniki? Head of house? Guard? Personal Body Guard to..etc, etc etc..)
What district do you live in?
District 1
Relationship
Single
Occupation
Snows occupation is quite to the point of boarder line prostitution.  "Escorting"
Fighting Stlye
Ninjutsu, Martial arts, and Espionage.
Weapon of Choice
Snow has this thing about carrying no major weapon around with her. A switch blade is all she will ever need.
Allies/Enemies
Allies
===

Kirei Yuri 

===
Jasmine
She has no enemies thus far.
Background
Statbook/Rap Sheet
~Fill this in when you pick your clan. Keep it realistic. We do not want OP rpcs~
| StatBook | Driving Skills | Renown | Speed | Combat | Stamina | Intellegence | Total |
| --- | --- | --- | --- | --- | --- | --- | --- |
| Ark- | - | - | - | - | - | - | - |
| - | - | - | - | - | - | - | - |
Roleplay Selection
~Where you add the Role-play logs you have particapated in~
APPROVED BY
~Two approvals will be needed IE: Chairmen Tasanagi, Chairwomen Nakayama~