Neko
IMVU Information
Username:

NekoKitKat

General Information
Name:

Neko Claw

DoB:

January 13th

Age:

22

Physical Information
Gender:

Female

Blood Type:

A-

Hair Color:

Black

Eye Color:

Green

Height

5'9

Weight:

174

Omega Gene Level:

Common Information
Occupation:

Clan Huntress and Herbalist

District:




Other links

Image gallery • List of appearances •
Neko
IMVU Information
Username:
General Information
Name:

DoB:

Age:

Physical Information
Gender:
Blood Type:
Hair Color:
Eye Color:
Height
Weight:

Omega Gene Level:

Common Information
Occupation:
District:




Other links

Image gallery • List of appearances •
Template loop detected: Template:Rb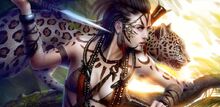 Apperance
Edit
Lean but thick muscle, long black hair braided down to her knees, tanned skin marked with many tattoos that resemble jaguar markings. Bright green eyes, and fang sharp canines.
Behavior/Personality
Edit
Wild. Wild and Insane. Neko takes on her clan's claim to being ruthless and wild, she could stitch your wounds better than a doctor or shred them out of existence just depending on her mood. The Wild Card.
This island is the land of the savage Amazons who don't believe in the political stand points of the other two. They run rampit. Hunting , and fighting. Sometimes they will go out and bring men back to the island just for sexual needs and then kills them afterwards. They are savage and wild. Guriella styled war fare and combat is there forte. They live with no morals, and kill any who get in there way. Even there own, they have been without a leader for a long time, and by far the most fierce of warriors. But, they are the weakest in terms of battle stratgety unlike the other two tribes. They are expert trackers, and master hunters.
Edit
Which Goddess Do you follow?
Edit
Acoinna- The Legendary Water Goddess. Worshiped mostly by the Xiao'Kai. This Norse like goddess bestows those under her with the power of undefining will to never give up. ( Will Empowerment. / Mind over Matter. ) This Barbaric goddess bestows her power upon her barbaric clans.
Community content is available under
CC-BY-SA
unless otherwise noted.