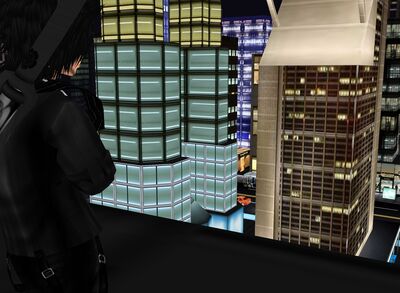 The Kasaihana city quest board. It various and the difficulty ranges drastically all the time. Here are various places where Job Ads. And other kind of assisstance are set up. It's like the Kasaihana city Craig's list of things. Some missions or Jobs arent always what they seem. And sometimes things can get a bit out of hand. But I'm sure it's nothing you cant handle. Tread carefully, think smart, choose wisely.
Location: ( Where it will be located, I. E. room on IMVU)
Reward: ( What will be gained for doing the task.)
LoU ( Level of Urgency. 1 being the lowest, 10 being the highest.)
Difficulty: ( How hard it should be for your character.)
DOA: ( Dead or alive.)
The Mission Takers: ( Which RPC's will be taking the quest.)
Completed:
Band of the Bands
Edit
"Hey there this is your man JDog  with the latest, you see im having an tour in your little city Kasaihana but after hearing the news about this city my mind quickly changed but it I was too late. SO im looking for the toughest of the tough to watch my back when im on stage and I will give you all the woman and money you will need well not all the money but yes all the WOMEN YOU CAN HAVE! HAHA
Location: District 1
Reward: 1000$
LoU Level of Urgency :3
Difficulty: Normal
DOA: Alive
The Mission Takers: 
Completed:
Son's Enterprise Needs your HELP!
Edit
Hey this is Remy and seeing I have a court case in a few min I need something taken care of cleanly, A bunch of Kids stole the new shipment to the worlds first hover boards and been selling them. I have another Shipment coming in and I will need someone to make sure it stays that way I tired calling the KPD but I got no answer if they call back then I will have them take care of the mattter. But If you help not only will the money be sweet but I will give you an free Hover board from Son's Enterpirse

Location: D2 or D3
Reward: 10,000
LoU Level of Urgency: 
Difficulty: Hard
Job: ( Which RPC's will be taking the quest.)
Completed:
Stop in the name of Love!
Edit
"ALRIGHT IM LOOKING FOR A BATTLE!" Im the famous Alphonse! And I got that Magic rain you will never see so come on and play me in a little on on one in some B-Ball Baby.
Location:DIstrict 2. Near the park avenue.
Reward:  300
LoU : 5
Difficulty: Normal
The Mission Takers:
Completed:
Community content is available under
CC-BY-SA
unless otherwise noted.