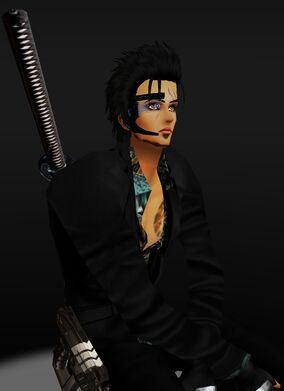 Imvu NameEdit
HatakeHajime
Nick NameEdit
Byakko
Tiger
Kitten
Samurai
Hajime Nagakura
21
6'3"
Blood typeEdit
O
187 lbs
Clan & RankEdit
Kagemaru Clan
Aniki
OccupationEdit
Right Hand of the Kagemaru Clan
Street Fighter
Car Salesman/Club Owner (Haji's Late Night Drift)
Fighting stlyeEdit
Akido
Judo
Ju-Jitsu
Shotokan Karate
Kung-Fu
Cali
Eskrima
Champuru Kendo
Mixture of Different Kenjutsu
BackgroundEdit
Hajime was born in District 1 twenty-one years ago on February 4th to Tazuna Nagakura and Alexandra Nagakure (Maiden Name: Martinez). As his father was a member of the mafia, Hajime was raised in the Yakuza Culture-- which means he knows how to live by the Yakuza's Code of Ethics. Becaue of his lineage, and his up-brining, Hajime idolizes the Yakuza Code, and has the utmost respect for it. Because of this idolization of this set of rules, Hajime's mindset goes to radical heights to protect the code of ethics-- going as far as murder and near torture just to enforce it. After becoming an Aniki and the Right Hand of the Kagemaru Clan, Hajime devotes his life to protecting his Chairman, Keyome, and bringing prosperity to the clan-- which is why he became a car salesman. He also tends to be the voice of reason among the Yakuza in his clan, as he has a more stable way of thinking-- as opposed to being too crazy, or too nonchelant. 
Weapon of choiceEdit
Pistol
Shotgun
Nodachi
Statbook/Rap SheetEdit
| StatBook | Driving Skills | Renown | Speed | Combat | Stamina | Intellegence | Total |
| --- | --- | --- | --- | --- | --- | --- | --- |
| Ark1 | 3 | 2 | 3 | 5 | 4 | 3 | 20 |
| | - | - | - | - | - | - | - |
Male
RelationshipEdit
Seeing Someone
PersonalityEdit
Hajime is a pretty nice guy. Like most other members of the Kagemaru Clan, he's got a vulgar mouth, and perhaps and equally vulgar sense of humor. His Behavior is not the most vulgar, however. Hajime tends to be polite when it comes to women-- a large contrast from the rest of the clan-- but can be extremely punishing when it comes to something he finds to be dishonorable. Hajime tends to murder anyone who violates the Yakuza's Code of Ethics. Due to this, he is against kidnapping and rape, and will go so far as to almost torture and murder those who he sees committing the two acts-- even going so far as severing the hands off an offender for doing so. Being a protective individual, Hajime tends to carry larger weapons than others in the series-- shotgun, Nodachi, etc-- and it usually makes him the first one into a street fight. Hajime's personality, however, stops him from gaining too much renown to quickly as he likes to kill everyone on the other side during a Gang Duel and leaving before he can be seen by too many people. Being a car salesman, Hajime likes money, and gets discouraged when sales are down-- a trait which also leads him to be frugal at times.
RP Library
http://yakuza-mob-roleplay.wikia.com/wiki/Ark1-Episode_1:_The_Dragon_vs_The_Wolf
http://yakuza-mob-roleplay.wikia.com/wiki/Ark1-_Episode_2:_The_corrupt
APPROVED BYEdit