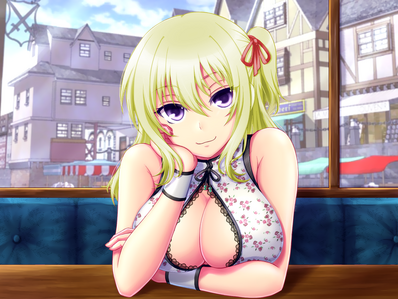 First NameEdit
Akasha
Last NameEdit
Night
IMVU NameEdit
InfectiousSoul
NicknamesEdit
N/A
20
Female
6'0
150
Blood typeEdit
O-
Behaviour/PersonalityEdit
Akasha is a playful girl, who likes to flirt her way into, and out of situations, as well as getting what she wants. She likes listing to Classical music, as well as Rock. She loves to sing and draw. She loves the colors black and red.
Clan & RankEdit
Arasumaru
Secretary
What district do you live in?Edit
District 2
RelationshipEdit
Single
OccupationEdit
Currently a Secretary
Fighting StyleEdit
Cant fight worth shit.
Abilties & Perks
Edit
NanoTechnic Succubus
User with this ability either is or can transform into succubus (plural succubi), a female demon or supernatural being that traditionally appears in dreams taking the form of a humanoid woman in order to seduce men, usually through sexual intercourse.
Just like Venetrix Flint she has been expremented on heavily to become to perfect succubus, allowing her to have bio genetic changes that allow her to be just like a succubi. But she's a more perfect form of what Venetrix wanted her to be. After the Chinsese stole the designs of Venetrix's structure they made another just like her to assist the now late Keyome Tasanag. She is able to deal with alot of abilites, especially dealing with illusions and mental manipulation. Physical changes include fangs, claws, pointed tail and wings. The nanomachines within her body feed on the sexual enezymes a man produces during sexual intercourse, once the penis has implanted its essences inside of her, her body will feed off of it, but it will drain the man heavily, and could kill him if he over did it.
Weapon of ChoiceEdit
Finger nails, teeth, purse, the police
Allies/Enemies
Edit
Anyone that comes off as a douchebag.
BackgroundEdit
Statbook/Rap SheetEdit
| StatBook | D.S | Renown | M.A | Speed | Combat | Stamina | Intell. | C.C | Total |
| --- | --- | --- | --- | --- | --- | --- | --- | --- | --- |
| Ark- | 4.5 | 2 | 0 | 3.5 | 0 | 5 | 2.5 | 0 | |
Roleplay SelectionEdit
APPROVED BYEdit
Chairman Tasanagi (talk) 08:30, October 19, 2013 (UTC)
Community content is available under
CC-BY-SA
unless otherwise noted.